Happy 2018 everyone! Hope you're having a wonderful start to the New Year. Between the holidays, a few trips home, and freezing cold temperatures here in Chicago — I haven't been able to snap any new outfit posts. But I promise there will be some as soon as the weather starts cooperating. Now that could be May — but let's hope it's only a few weeks. Of course you can always catch my #OOTD on my instagram.
In the meantime, I wanted to share with you all a few of favorite purchases from 2017. It's a mix of my favorite pieces of clothing, a few skin care items, and other favorites I've been absolutely loving.
Blank NYC Suede Moto Jacket – Hands down my favorite purchase from 2017! I generally gravitate towards grey, black, and olive — but I'm so glad I snagged the cognac version of this jacket. It goes with so much in my closet and pairs great with my favorite black denim. I actually purchased the 2016 version, but ended up returning it because it was too cropped for me. And I'm so glad I did — because the current version works better for my body type.
Stella & Dot Reversible Infinity Scarf – I'm a sucker for animal print so this two-toned scarf from S&D was an absolute no brainer for me. It's been the perfect finishing touch to several of my outfits and I love that just by flipping the material you can easily create another look. Definitely a scarf to have in your closet — and perfect for travel because of the versatility.
Madewell x No 6. Jumpsuit – I saw this jumpsuit on my friend Mel and fell in love. With a few upcoming winter events (my sister's rehearsal dinner and upcoming friend's wedding) I knew it was the piece for me. I haven't been loving dresses the last few years — the proportions seem to be off and I just don't feel my best — so instead of been gravitating towards jumpsuits when the occasion calls for something dressy.
Emillie Top & APL Peoria Distressed Jeans – These jeans were on heavy rotation this summer and for good reason. The distressing was perfect and the fit was super comfortable. I wore (and re-wore) this look a lot this summer. Sometimes when an outfit just works it doesn't need re-working, you know?
Ever Skin Sublime – I've been telling all my friends about this product so I should let you guys in on the secret too. This is by far the absolute best eye retinol treatment I've tried. I've been using this since the fall and have been blown away by the results. I use it 2-3 weeks and it will definitely be a repurchase (I still have more than half the product left) when I run out. If you're a skin care junky — I highly recommend.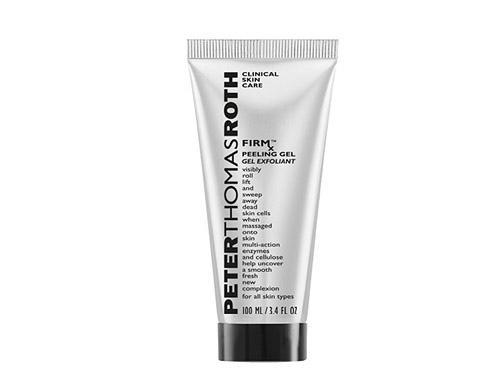 Peter Thomas Roth Peeling Gel – I first heard about this product from Jess Keys and knew I had to try it. Exolifators can be too harsh for my skin — but I after hearing her review and reading more online I knew I wanted to give this a try. After trying a sample I fell in love. I was really good about using this weekly at the beginning of 2017 and need to get back into a regular routine. Your skin will feel like butter after using this — BUTTER!
Sorel Lea Wedge – A recent saving grace, but a purchase I made back in September. I wanted this desperately last year and missed the boat so I made sure to snag these early this year. I hate carrying multiple pairs of shoes in the winter so these are great because they're functional and stylish. I've been wearing them for weeks and seeing as the weather doesn't seem to be letting up anytime soon, I'm sure they will be a lot more miles this winter.
DryBar Buttercup
– Not sure you can call this a cult favorite anymore, but it's definitely the best
hair dryer
I've used. And I'm particular. I have natural frizzy coarse hair that is difficult to dry. This darling gets my hair as straight as I've ever seen with just a blow dry. Do I need to use a flat iron — definitely — but I don't nearly have to use as much heat as I did before the Buttercup.
So that's a wrap on my 2017 favorites! I'd love to hear some of your favorite purchases so be sure to share yours in the comments below.